A creation of the OD Hotels group, Ocean Drive Talamanca is a 5 star luxury beachfront boutique hotel set against the backdrop of picturesque Talamanca Bay, just a fifteen minute walk from the heart of Ibiza Town. It's close to one of the island's most glamorous areas, with luxury retailers and exclusive restaurants dotting the waterfront down to the harbor, without being too flashy and more residential.
But don't be fooled by the bustling nature of the area, as Ocean Drive Talamanca is a modern, stylish and peaceful oasis just far enough from the party life that you can choose to have a relaxing vacation or keep the Party go until the morning in one of the world famous clubs nearby.
Hotel
Adding a prized location to the OD Group portfolio, Ocean Drive Talamanca offers spectacular views of the Mediterranean Sea and the Old Town, a UNESCO World Heritage Site. A Traveler's Choice 2022, it was recently voted one of the top 10% best hotels in the world.
A design-driven boutique hotel, it blends elegant architecture and clean lines for a peaceful, refined atmosphere that's a welcome change from chaotic, bustling island life. It has 117 rooms and suites, three different swimming pools and a large solarium, as well as a bright and spacious reception if you want to work or read inside, and a rooftop terrace with stunning views on the bay.
The Sky Bar on the terrace was already closed for the season when I visited, but during the summer it's the perfect place to have a drink or two while admiring the 360 ​​degree view – over Dalt Vila, Formentera , the bay of Talamanca and the mountains–– and the sun from the private swimming pool.
Rooms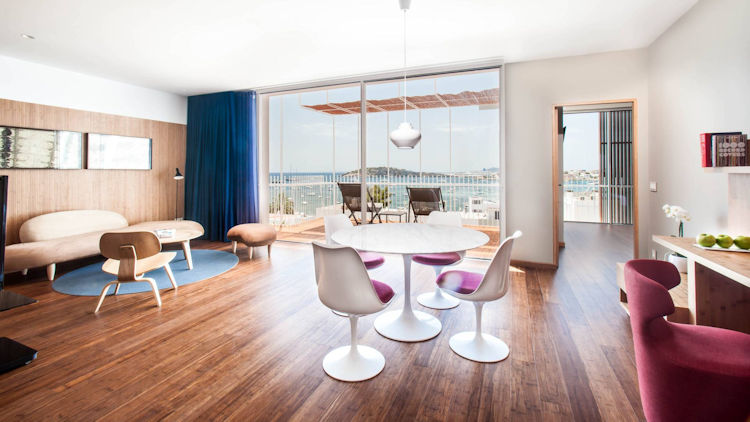 Duplex Suite
All rooms face the sea and have incredible views, as well as a light and airy feel and a distinctive clean charm. Their blend of contemporary designer furniture and a calm, inviting ambience is the result of a collaboration between Víctor Rahola's architecture studio and interior designer Mayte Matutes.
I stayed in the deluxe room, a 35m2 mediterranean style room and opening onto a small balcony with a great view, and between the balcony table, the recliner and the desk next to the bed, when it was about sitting down to do some work, I was really spoiled for choice.
And for those who visit Ibiza less for work, and more for – ahem – a bit of wanton fun, my complimentary bottle of water on arrival was placed on the mini-fridge in the room, next to a box full of goodies like condoms, lube, mini vibrator, and dados eroticos. How do you say "welcome to Ibiza" in Spanish?
For the ultimate luxury getaway, Ocean Drive Talamanca also offers unique suites with two bedrooms, a spectacular 120 m2 roof terrace and a private swimming pool.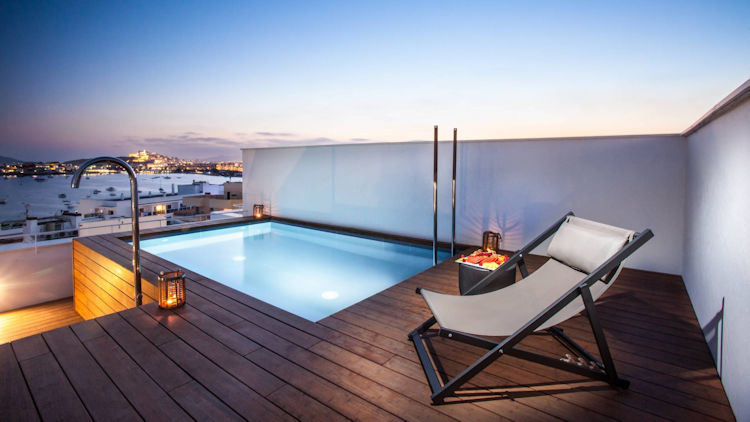 Duplex Suite Pool
Food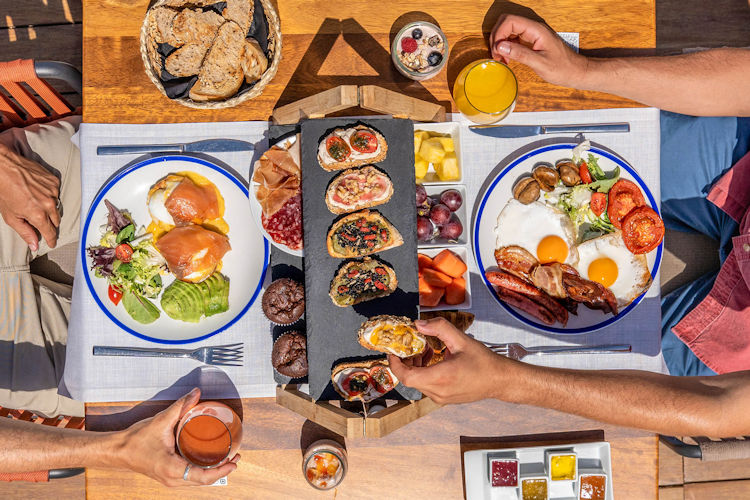 During high season, the Sky Bar serves gourmet breakfasts for suites and dinners for all guests. At all other times, meals are served in the large dining room between the lobby and the outdoor pools, with helpful and attentive service throughout ––Monica, the waitress who looked after me on the first evening, was particularly lovely .
From their a la carte dinner menu, I sampled the Cecina croquettes from Valle del Esla as a starter, a variety of leeks and air-dried beef from the traditional Spanish dish cooked with heaps of butter and a rich bechamel sauce. Really tasty. Then I tried the hamburger, a veggie burger with vegan 'cheddar' and 'bacon', which was a little dry and not as good as the croquettes, but maybe that was my fault; it's hard to find good substitutes for cheese and meat, and I should have known this!
Breakfast is served until noon (a life buoy and something more hotels should get to know about!) and consists of a pretty incredible buffet of sweet and savory, hearty and indulgent, simple and elaborate foods to start your day off right. The cakes and pastries were so inviting I couldn't help but have several, as well as fruit, yogurt and berries, but classic eggs and fries were also available to order.
Do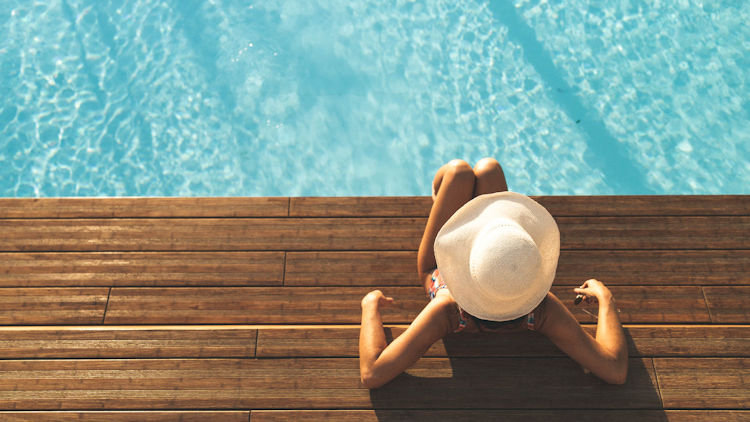 Among the facilities available at Ocean Drive Talamanca are a gym, solarium, meeting rooms with state-of-the-art equipment and an 80-car garage. Services available include on-site hair, makeup, massage and manicure treatments, chauffeur services, Fiat 500 cars, other car rental services, helicopter, boat and motorbikes, as well as flyboard, jet-ski, sailing, fishing, diving and golf reservations.
And if you're less sporty and more of a party animal, fear not, as the hotel can organize VIP access for you to clubs like the world-famous Lío, Pacha and Ushuaïa, a nice addition to a package already complete.
information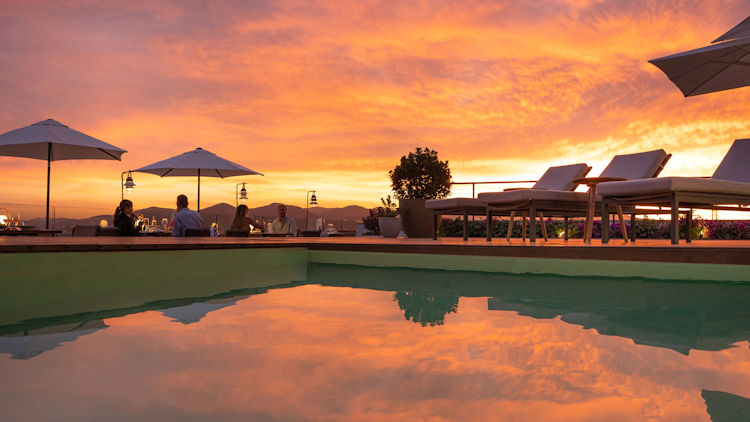 Standard room rates at Ocean Drive Talamanca range from €325 per night including breakfast, service charge and VAT. Suite guests can choose to upgrade to OD Explorer and receive a Fiat 500 Hybrid to use during the stay. Airport transfers are available on request, but are not free. The reception is open 24/7 and includes luggage storage as well as a dedicated concierge service. Events and exhibitions are organized throughout the year, Wi-Fi is high speed and free of charge.
For more information and to book, go to: www.od-hotels.com/hotel-ocean-drive-talamanca-ibiza
Article of Anna Myers
Images courtesy of Ocean Drive Talamanca